Professional
ConnerPro Trap gives a stunning, colorful, and dynamic look. Works in any video.
Easy To Use
Just drag and drop the Effect onto the clip you would like, then select the object you would like to highlight. (View Tutorial)
Flexible
Easily tweak effect frequency, color, strength, object source, and more.
Stunning Effects Within FCP X. Easy & Affordable.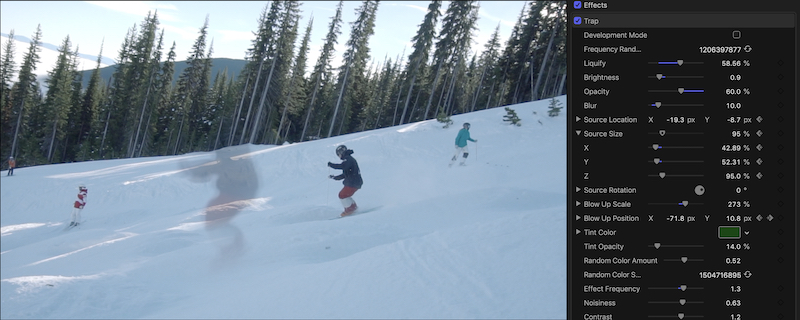 Reviews
Wow!

Larry Jordan
Conner has given us some of the best working templates out there!

David Westenhaver
The titles and transition templates helped me create professional looking ski edits from start to finish.

Jannick Fjeldsoe
The process, pricing and installation were a breeze! Very nice. Can't wait to use them in my next edit project.

Jerry Johnson
I really like the colors and saturation on your templates. They're just lovely ! Thank You!

Daniel Cho
Very pleased with the Blurry Slide and Zoom Flash transitions in particular (from the Light Transitions Pack), because they're effective and distinctive but don't show off too much. I use Zoom Flash speeded up a little, to give me pacing if I need to snap up a little, discrete but fun.

Martin
Awesome templates and so easy to use! Just cant beat these professional effects!

Tim
Perfectly Suited For…
Beginner Editors Independent Filmmakers Hobbyist Editors Creative Professionals
Template Specs:
Broadcast HD 1080p
29.97 fps
Square Pixel Aspect Ratio
Instant download
Requirements:
Mac OSX 10.5 or higher
Latest Version of Final Cut Pro X
Capable Mac Computer