Easily create a subtle psychedelic effect to your videos with Timeflux. Simple, fully customizable, and free. Watch our demo:
How To Install
1.) Unzip, then move the "Timeflux" Folder into ~/Movies/Motion Templates/Effects
2.) Restart Final Cut Pro X
3.) Drag the "Timeflux" effect in the Effects Browser onto your clip of interest in your timeline
How To Customize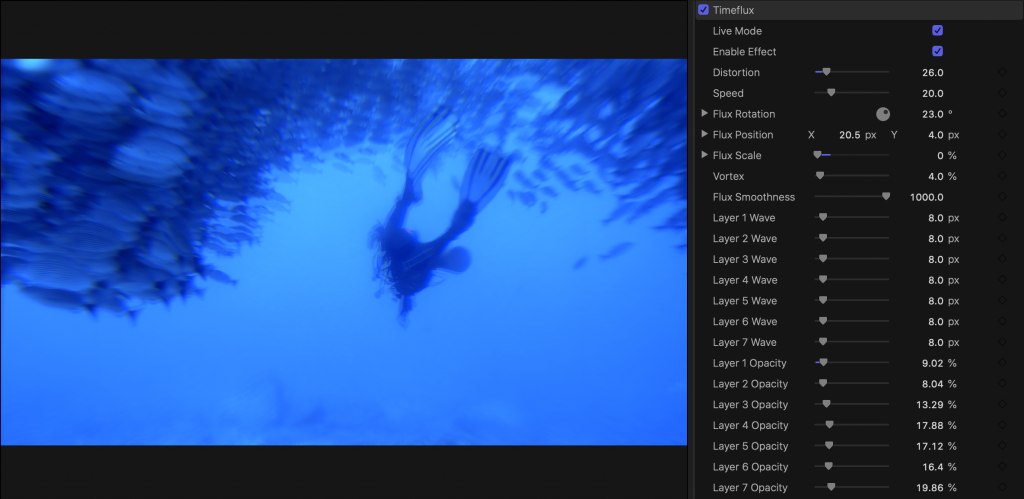 To edit the effect mask (the location of the effect on your video), uncheck the "Live Mode" box. The white circle is where the effect will appear. You can adjust this mask by editing "Flux Rotation," "Flux Position," "Flux Smoothness," and "Flux Scale." You can invert the mask by checking the "Invert Effect" checkbox. (Don't forget to check "Live Mode" when you're done editing the mask!) Use the "Distortion" slider as well as the Layer X Wave sliders to increase or decrease the intensity of the psychedelic effect. Play around with the other settings to unleash the dramatic flexibility of Timeflux.
One-Click Download
Or
(Having trouble downloading? Try using a different browser or turning off AdBlock/Ghostery/uBlock)
---